College Buses ply exclusively for students connecting main locations in the city in addition to availability of RTC buses.

It was launched in August 2002. Within a short span of time it has acquired a good fleet of buses. On time and service are the core value differentiators, thereby making it an unmatched travelling experience.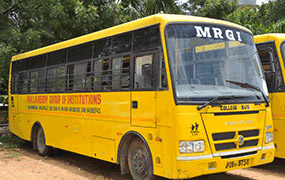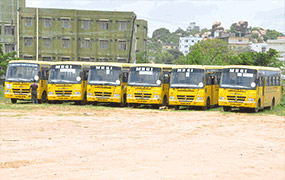 BUS Routes
ECIL
1.APHB (Moulali)
2.ECIL X ROADS (Round Building)
3.RADHIKA THEATRE
4.DR. AS RAO NAGAR (Water Tank)
5.OFFICERS COLONY (Ushodaya)
6.SAINIKPURI X ROADS
7.VAYUPURI
8.DEFENCE COLONY/5th AVENUE
9.NIRMALNAGAR
10.AMMUGUDA X RDS
11.KAUKOOR (Water Tank)
12.RISALA BAZAR/LAKDAWALA
13.BOLARUM
14.KOMPALLY/DHULAPALLY
MALKAJGIRI
1.MALKAJGIRI (Old Municipal Office)
2.ANUTEX
3.ANAND BAGH X RDS
4.SAFILGUDA (Petrol Pump)
5.KRUPA COMPLEX
6.NEREDMET (Old PS)
7.NEREDMET X ROADS
8.RK PURAM /Military Hospital
9.TIRUMALAGIRI X RDS
10.LAL BAZAR (Bus Stop)
11.LOTHUKUNTA (Bus Stop)
12.ALWAL (E-SEVA)
13.TEMPLE ALWAL (Sree Bakery)
14.OLD ALWAL (IG Statue)
15.FR. BALAIAH (Bus Stop)
16.LOYOLA COLLEGE
17.SUCHITRA JUNCTION
18.JEEDIMETLA VILLAGE (High Way)
19.PRAJAY APARTMENTS(High Way)
20.NCL COLONY (High Way)
21.KOMPALLY/DHULAPALLY
AMEERPET
1.MOTINAGAR (Bus Stop)
2.AMEERPET (Big Bazar)
3.MYTHRIVANAM (Bus Stop)
4.ESI (Bus Stop)
5.GOKUL
6.ERRAGADDA (Bus Stop)
7.BHARATHNAGAR (Fly Over)
8.MOOSAPET (Bus Stop)
9.SR NAGAR (Opp. E-Seva/P.S.)
10.BALKAMPET (Yellamma Temple)
11.FATHENAGAR (Durgamma Temple)
12.FEROZGUDA/BHEL (R & D)
MEHDIPATNAM
1.ATTAPUR/HYDERGUDA/
GUDIMALKAPUR
2.MEHDIPATNAM
3.SD EYE HOSPITAL
4.NMDC
5.MASAB TANK/PENSION OFFICE
6.BANJARA HILLS(Care/Water Tank)
7.PUNJAGUTTA
8.LIFE STYLE
9.HYDERABAD PUBLIC SCHOOL
10.BEGUMPET
(Below Fly Over/Police Lines)
11.ANAND CINEMA
12.PARADISE (Water Tank)
13.TAD BUND
14.CHINA THOKATTA
15.BOWENPALLY POLICE STATION
16.BOWENPALLY CHECK POST
17.MMR GARDEN
UPPAL
1.UPPAL X ROADS (Bus Stop)
2.SURVEY OF INDIA(Bus Stop)
3.NGRI (TVS Show Room)
4.HUBSIGUDA (Ruchi Hotel)
5.TARNAKA (Aradhana)
6.SEETHAPHAL MANDI (Bata)
7.CHILAKALAGUDA (Bus stop)
8.KEYE'S HIGH SCHOOL
9.ST. ANN'S HIGH SCHOOL
10.YMCA (Ganesh Temple)
11.JBS (Bus Stop towards Mudfort)
12.MUD FORT (Ikon Show Room)
13.DIAMOND POINT
14.CENTER POINT
15.BAPUJINAGAR (Petrol Pump)
16.PULLA REDDY HOUSE
17.BOWENPALLY CHECKPOST
18.MMR GARDEN
PADMARAO NAGAR
1.PADMARAONAGAR
2.MUSHEERABAD
3.GANDHI HOSPITAL
4.BOYAGUDA CIRCLE
5.KEYE'S HIGH SCHOOL
6.SANGEETH
7.SHENOY
8.AOC GATE (Swimming Pool)
9.GHANSHYAM (Super Mkt)
10.SEC'BAD CLUB
11.VIKRAMPURI
12.HANUMAN TEMPLE
13.RTC COLONY
14.TEACHERS COLONY
15.AWHO (Ved Vihar)
16.KANAJIGUDA/GREEN FIELDS
17.GREEN FIELDS
18.MILITARY DAIRY FARM
BHEL
1.RC PURAM (Bus Stop)
2.BEERAMGUDA (KAMAN)
3.ASHOKNAGAR (Bus Stop)
4.JYOTHINAGAR (Bus Stop)
5.BHEL (KEERTHIMAHAL)
6.LINGAMPALLY
(BHEL MAIN GATE)
7.CHANDANAGAR (Bus Stop)
8.GANGARAM (Bus Stop)
9.MADINAGUDA (Bus Stop)
10.MIYAPUR X Rds/BACHUPALLY
11.HYDERNAGAR (Bus Stop)
12.NIZAMPET Jn
13.JNTU(PS)/PRAGATINGR/
HMT HILLS
14.JNTU(PS)/MALASIAN TOWNSHIP
15.KPHB (Kalanikethan)
16.VIVEKANANDNAGAR (Arch)
17.KUKATPALLY (Bus Stop)
18.MOOSAPET (Y-JUNCTION)
19.BALANAGAR X ROADS
20.IDPL (Petrol Pump)
21.CHINTHAL (Bus Stop)
22.SHAPUR (Bus Stop)
23.JDM DEPOT (Petrol Pump)
24.SURARAM (Malla Reddy Hosp)
25.GANDIMAISAMMA Jn.
LB NAGAR
1.VANASTHALIPURAM (Bus Stop)
2.PANAMA GODOWN (Bus Stop)
3.LB NAGAR (Bus Stop)
4.ASTHA LAXMI TEMPLE
5.KOTHAPET (Old Court)
6.CHAITANYAPURI (Signal)
7.DILSUKHNAGAR (Chandana Bros)
8.TV TOWER (Bus Stop)
9.MALAKPET (Super Market)
10.NALGONDA X ROADS
(SBH ATM)
11.CHADERGHAT (P.S.)
12.KOTHI (Women's College Park
13.TOURIST HOTEL
14.BARKATPURA (Chaman)
15.FEVER HOSPITAL
16.6 No. JUNCTION (Bus Stop)
17.SHIVAM/VIDYANAGAR
18.SHANKAR MUTT
(Andhra Bank ATM)
19.VST/RAMNAGAR/RAMNAGAR
GUNDU
20.NARAYANGUDA(Near Fly Over)
21.HIMAYATNAGAR (Bus Stop)
22.LIBERTY (Stanza)
23.RTC X ROADS
(Sudershan Rear Gate)
24.ASHOK NAGAR X Rds
25.INDIRA PARK (Signal)
26.TANK BUND
(Battle Tank)/VICEROY
27.RANIGUNJ (TVS Tyres)
28.RAMGOPALPET (P.S.)
29.PARADISE (Water Tank)
PROPOSED NEW STAGES
1.BAPUGHAT/BAPUJINAGAR
2.LANGAR HOUSE
3.FLOUR MILL
4.NANAL NAGAR
5.TOLI CHOWKI
6.SHAIKPET (Darga)
7.RAYADURGAM (Bus Stop)
8.GACHI BOWLI
9.KONDAPUR JN
10.HITECH CITY
11.MADHAPUR (PS)
12.KAVURI HILLS (Jubilee Hotel)
13.PEDDAMMAGUDI (Bus Stop)
14.ROAD No. 10 (Vacs Bakery)
15.VENKATAGIRI (Bus Stop)
16.INDIRANAGAR (Bus Stop)
17.SRINAGAR COLY
(Satya Sai Mandapam)